Daring greatly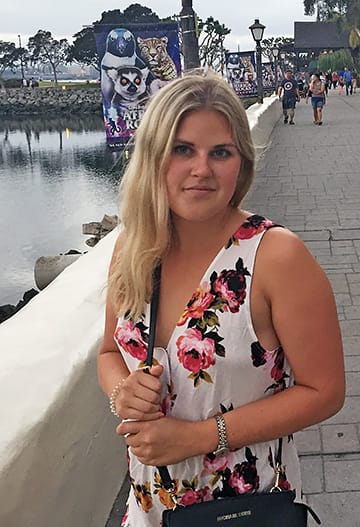 Elevator Maintenance Technician – a title that belies the responsibilities that come with keeping buildings and cities running smoothly and efficiently. Sofie Frafjord Jølstad from KONE Norway knows this well.
Sofie started her KONE journey as an elevator maintenance technician seven years ago. She hasn't looked back since.
"Some women might be afraid to do things because they think they won't be able to manage. But I think they'd manage really well, and that we all just need to trust ourselves and take the leap," says Sofie.
Today, Sofie is a successful technician, who attributes her success to KONE's inclusive and empowering work culture. "We're the only company in Norway with as many as five women working as elevator technicians," she adds, pointing out that many companies might still be unwilling to hire women in fields considered physically demanding.
The idea of being part of an elite group adds to the sense of unity between her and her female colleagues. Together, Sofie believes, they will be able to influence real change.
Aside from elevator servicing and maintenance, she enjoys tinkering with the new innovations and technologies that are deployed from the KONE stable. Something that Sofie says is driven by the spirit of innovation and the willingness to try new things that is characteristic of the company.
While Sofie enjoys support from all colleagues, she has special words of praise for Sunniva, whom she worked with in her early days as a trainee. Being only the second woman in all of Norway to study elevator mechanics, Sunniva paved the way for others.
"She proved that women too can be great as elevator technicians," says Sofie. A trend she feels KONE has nurtured and encouraged.
Her advice to other women in the industry? Dare greatly.
Looking past boundaries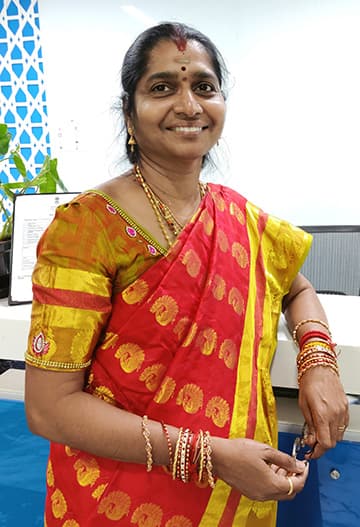 When Viji Krishnamurthy was appointed Global Head of Transitions and Change Management at KONE Shared Services, it was a life-changing experience.
"Coming from a traditional family, stepping into a global role and relocating to Europe was something I hadn't imagined," she says. "It's been five years since I moved, and I couldn't be more happier."
Viji manages projects across four continents. "During my last ten years at KONE, I've been fortunate to be exposed to several challenging assignments where I could explore multiple dimensional roles," she says, adding that these challenges have given her deep insights into leadership capabilities and helped her to grow into her current role.
Viji is known for her go-getter attitude, passion for work, collaborative nature, and for taking on challenging assignments and making them work. These traits make working at KONE a win-win for all the stakeholders, she says, because the company embraces diversity and sets the right environment and business context for the people.
What has also helped Viji is her courage to grow. That, she feels, is the need of the hour for women. Quoting KONE CEO Henrik Ehrnrooth from one of his employee-facing speeches, Viji says, "It's important to show that you are interested and not that you are interesting." This has been her mantra ever since.
In Viji's decade-long journey with KONE, she has come across many inspiring women. Among them, she admires Sreelakshmi Menon, marketing and communications director at KONE Asia Pacific for her enthusiasm and spirit of inclusiveness. Women like these, she says, are ideal role models for aspiring professionals.
On a parting note, Viji advises her fellow women to chart their own path to success by looking past imaginary boundaries and daring to grow.
Living life on your own terms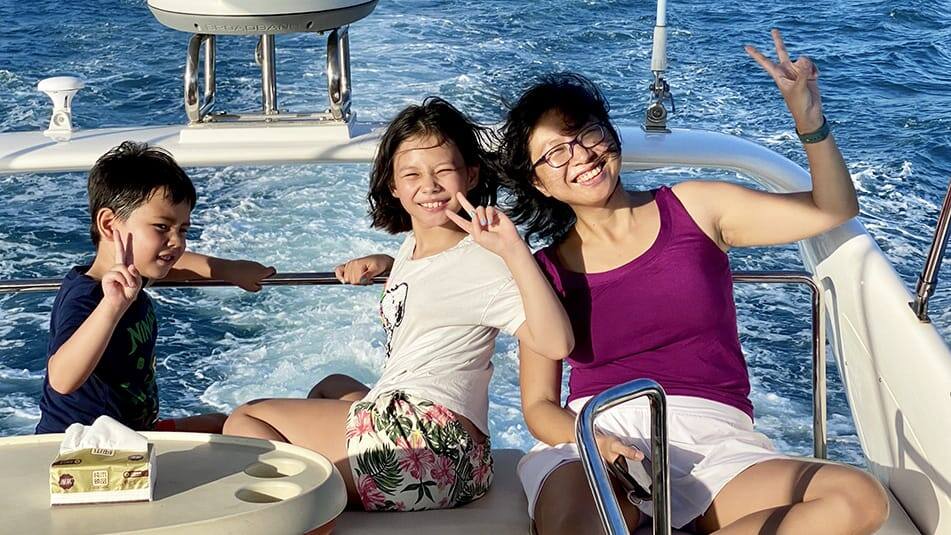 "Growing up, I was constantly told how I should behave as a girl," says Amy Chen. "It took getting exposed to different cultures to realize that I could choose to live life the way I want, not the way others think I should."
This feeling has taken Amy, who's originally from China, to live and work in places like the US, the Netherlands, Germany, and now Finland. Today, Amy is a Senior Vice President and Chief Innovation Officer with us at KONE, transforming ideas into exciting new products, innovations, and solutions.
Taking a cue from her experiences, Amy holds strong views about accepting people for who they are. "It's not about men versus women," she stresses, explaining how we need to step away from judging others by stereotypes involving gender, religion, race, education, and sexual orientation. She hopes that more people could live life on their own terms.
Amy is strongly driven by efficiency. She defines her personality as analytical but also considerate. This, she says, allows her to be both empathetic and practical. "I'm not easily disturbed, and that helps me to keep cool during challenging situations."
Her drive to constantly break new boundaries and explore new horizons has found fertile ground at KONE.
"Courage is a KONE value and something I empathize with deeply. The courage to live life differently and grow. Then comes care, another value that reflects in our supportive environment. And finally, collaboration, a value that sees us co-creating brilliant new solutions for the customer, our fourth value," explains Amy.
Amy sees equality, trustworthiness, and the commitment to diversity and inclusion being hallmarks of KONE's culture. Traits she says will "drive constant growth in multiple dimensions for both KONE and all the individuals working here."
Phenomenal women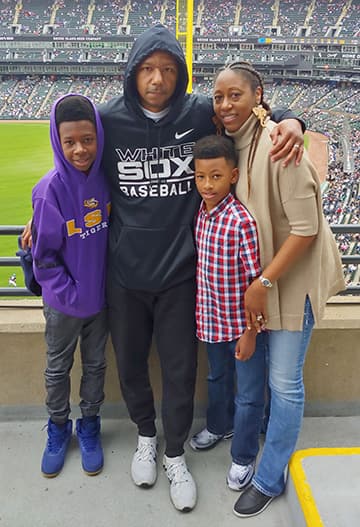 The road less traveled is an apt idiom for Candice Jackson. In high school, she enjoyed mathematics and science, leading her to pursue degrees in physics and mechanical engineering – the ramifications of which she didn't understand until later in life.
"Academically this path was a great fit for me," she explains. "But as I transitioned to college and then into the corporate world, it became clear that very few women pursued degrees in science, technology, engineering, and mathematics. I was working my way through a male-dominated field. This meant I would have to contend to be recognized and respected for my work."
While Candice has faced specific situations in her life where she sensed she was not treated fairly, she quickly realized that the key to overcoming these challenges was to talk about them openly.
"Earlier in my career, I was repeatedly disrespected by someone in a leadership position," she says. "I finally talked to them about it in private. We became friends, and a decade later, we're still close."
This turning point helped Candice to understand that she needed to stand up for herself and be proud of the strength of her work and the value of her perspective as a professional woman in a traditionally male-dominated industry. Today, she works as a project manager at KONE Americas for the Major Projects business area.
She says KONE's open-door policy has enabled her to have candid chats with Ken Schmid, EVP of KONE Americas. One recent conversation involved the civil demonstrations and protest surrounding issues of racial injustice in the country. For Candice, the fact that top management welcomed an open discussion on these issues showed that KONE is concerned about equality.
At a time when the world is struggling to cope with a pandemic and equality, Candice's advice is to H.O.P.E. – Help One Person Everyday. "Growth is obtained by having a positive impact on the lives of others. If your focus is on helping others, you will help yourself along the way and develop fruitful relationships," she explains.
Infinite possibilities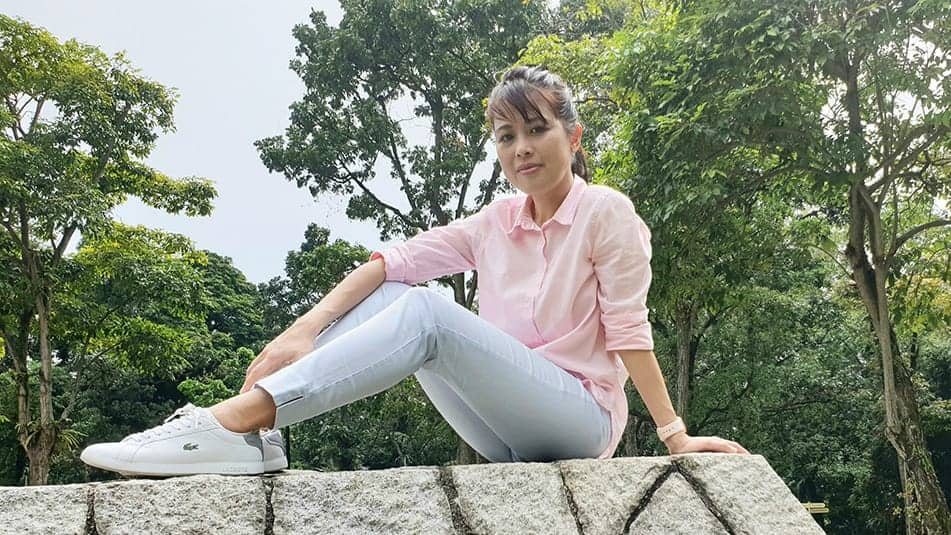 Erin Sarmiento recalls a moment that defined her as a person: "I was traveling alone overseas to Thailand," she begins. Thrilled with the prospect of experiencing new cultures, she was also anxious, even scared. "This trip led me to see different perspectives on life," she says. "I realized then that I would not let fear hold me back from doing anything."
Positive and passionate, Erin is a dedicated professional who has worked with us at KONE for over a decade, and is now a Senior Customer Solutions Engineer. Her job is to look for the optimal solutions for technical problems and assist in making design proposals to consultants. It's a demanding job and full of challenges, but for Erin, it's all in day's work.
"It gives me the opportunity to meet people from all walks of life," she says. "This has helped, and continues to help, build my self-confidence as I gain more knowledge in my field."
Erin feels that KONE's working culture and values empower women to realize their dreams. "This is a family-oriented company where women have the flexibility and opportunity to excel, be heard, and be recognized," she says, explaining that work-life balance, gender equality, and an enabling environment make KONE a great place to work for all genders.
While she has come across many women of substance, one person who has inspired Erin the most is her former manager, Li Xiu Fang. "She has strong leadership skills and work ethics, and she never failed to encourage her team members," recalls Erin. She treasures the many professional and personal connections she has made and relishes the opportunity to be part of a global sisterhood.
Seeing the many instances of women rising through the ranks and succeeding at KONE, she says, is proof that "all we need to do is dream big, believe in ourselves, and commit to a goal completely."
Seize the future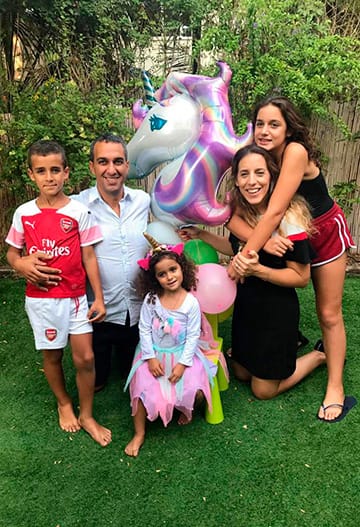 Two and a half years ago Cecilia Yitzhak walked into KONE Israel as New Equipment Business Director. Her mind was racing. Without previous experience in the industry, she wondered: Would she face any prejudice? Her worries were soon put to rest as she realized that gender was no obstacle to success at KONE.
"I believe that KONE is a great place to be without any difference between genders," she says. "KONE cares about us, encourages our development, and consistently communicates that we are part of the company's success."
Cecilia experiences this culture of inclusiveness first-hand, being promoted to Managing Director of KONE Israel, in a short time span. This, she says, is testament to KONE's pioneering work in creating an enabling atmosphere based on personal development and a focus on growth. These traits have come into play during the COVID-19 pandemic.
"I've been supported by peers and colleagues from Israel and from the wider area level," she says. "The pandemic has helped me truly appreciate the opportunity I have in working for a company that not only cares about me as an individual, but also takes my family's needs into account."
Known for being charismatic and results-oriented, Cecilia has strong opinions about women's rights and giving them an equal playing field. Her mantras for women are straightforward and pragmatic:
"Fight for your rights, aim high, and don't be afraid to learn. Know that it's possible to build a successful career and have a satisfying personal life. And most of all, believe in yourself," she encourages.
Cecilia feels that KONE's values of care, customer, collaboration, and courage go a long way in helping build an enabling atmosphere.
"I'm delighted to cooperate with professional women who set an example for young women," she says. "My amazing peers dare to dream big, day by day, and overcome obstacles."
#KONEwomen #EmpoweredByInclusion
Read more:
KONE's commitment to diversity and inclusion