October 31, 2018
Boosted by investments in infrastructure, new commercial construction and higher domestic consumption, Kenya is today one of the most developed countries in East Africa.
"There is a great trend of urbanization in East Africa," says Ramses Malaty, deputy head of mission at Finland's embassy in Kenya. "Many big cities are becoming hubs of industry and commerce. Nairobi is probably the largest and fastest-growing hub, driven by investments in industry and new construction."
The numbers look promising. Kenya's construction sector is forecast to grow 6.8 percent annually for the next few years. Infrastructure projects, such as roads, ports and rail lines, are getting a boost from new investments, and the country is expected to need some 350,000 square meters of additional commercial office space.
The Kenyan government is also taking steps to ensure this expected growth is sustainable. It is focused on meeting the United Nations Sustainable Development Goals as well as its own blueprint for national development, the Kenya Vision 2030. The aim is to transform Kenya into a middle-income country providing a high quality of life for all its citizens in a clean and secure environment.
In line with the vision, a government-appointed taskforce is working to encourage investments into remote areas of the country in the hope that these investments will have a domino effect, bringing in further investments and benefiting the region as a whole.
Overcoming challenges
The Two Rivers Mall complex is a good example of one such investment. Located on the periphery of Nairobi, it is the largest mall in Sub-Saharan Africa outside of South Africa.
The Two Rivers Mall is a significant mixed-use development. Already in place are 67,000 square meters of shopping space, 27,000 square meters of office space, a separate office block, an outdoor entertainment arena and a hotel. A residential area is also under development.
KONE supplied 51 elevators and escalators to the shopping and commercial areas and another four to the hotel.
"Tenants are assured of traffic flowing to their shops, and in this way, we were able to add value to Two Rivers with our people flow solutions," says KONE East Africa Sales Director Stanley Musau. "This was a very good experience for KONE and a huge milestone in this growing market."
Every project has its challenges, and the Two Rivers Mall had more than its fair share. The mall is large and had a complex design, but these weren't the most difficult challenges KONE had to overcome.
"Centum led the Two Rivers project, building it on a greenfield area and taking the challenge to equip it with state-of-the-art infrastructure. At the onset, we encountered power challenges with generators providing an interim solution for testing and commissioning. This did not dampen our spirits as we were deeply committed to deliver our part; Two Rivers currently operates its own power substation, an ambitious feat for any private developer in the country," Musau explains.
KONE worked carefully with the developer and other contractors to make things happen and, in spite of the delays, the end results exceeded expectations.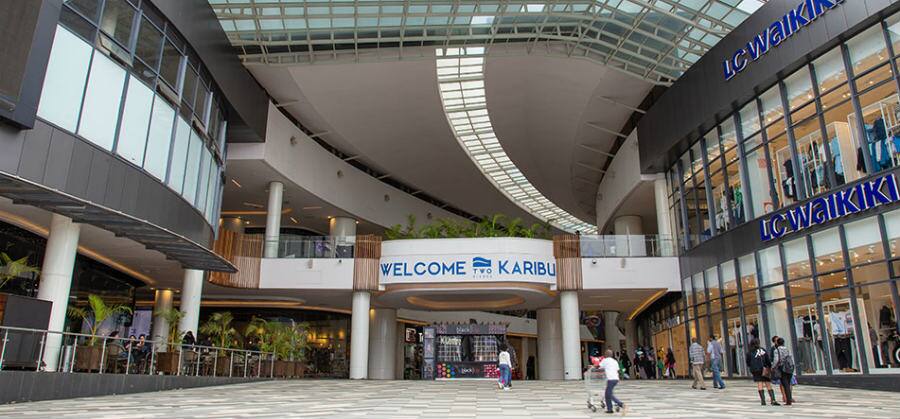 Providing an experience
"We had over 200,000 people come along for the opening weekend and we had no equipment problems at all," Musau says. "You forget about the challenges when you are able to deliver such a superb solution to the client!"
Many people took social media videos of their first trip to the mall during the opening weekend. Over 80 percent of the people entering the mall used the KONE autowalks and escalators to move around the complex. And a surprisingly high number of videos were shot from the KONE escalators.
"Yes, Two Rivers is really a spectacle when viewed from the escalators," Musau agrees. "This helps to illustrate why the reliability of the equipment is so important. We are not just moving people; we are providing an experience."
Kenya has a young population – Malaty points out that about half of Kenyans are under the age of 25 – and major development projects such as Two Rivers need to be able to attract these millennials with things to do and see.
"The exquisite design of Two Rivers Mall has its restaurants overlooking a riverfront with numerous activities including exciting dancing fountains, flume rides, bumper boats, aqua play, water zorbing and a skate park, among others, that keep families entertained all day long," Musau says. "This is a great example of the mall creating an attraction to complement its wide selection of over 120 stores, and our job is to help move those people safely, efficiently and pleasantly."
A flagship for sustainable development
Development might be booming in East Africa, and Kenyans are working hard to make sure the development is sustainable. About 89 percent of Kenya's electricity comes from renewable sources, chiefly hydroelectric. Geothermal is also important and increasing numbers of wind farms are also coming online.
The roof of Two Rivers boasts solar panels with a 1.2-MW capacity and the owners are currently seeking the 4-star rating from the Green Building Council of Kenya.
Musau says that KONE is now the supplier of choice in East Africa. And not just for retail projects, but also for hospitals, hotels, offices and the rapidly growing residential segment, supporting the Kenyan government's mid- and low-end affordable housing agenda.
Centum's portfolio of real estate projects in the region is impressive. And Two Rivers Mall is a flagship project for KONE, too.
"Two Rivers is really a signature project and great reference for KONE in the region," Musau says. "If someone wants to know what we can do, I ask them if they have been to Two Rivers."