November 2, 2018
Urbanization is driving economic development in China. The World Bank has estimated that by 2030, up to 70 percent of the Chinese population will be living in cities. New building projects tend to be residential, with data from the National Bureau of Statistics indicating investments of 6.59 trillion yuan in the real estate sector. Some 70.5 percent of that total is pumped into residential projects.
Rising incomes have also led to homebuyers demanding improved safety, better service and, most importantly, reduced densities of fellow dwellers. The most sought-after apartments right now are either in 16-to-18-story high-rises or in detached blocks of Yang Fang or "tenement-style" buildings of five to eight floors.
This trend is illustrated in Tianjin, a port city of over 15 million residents, that is part of the increasingly integrated Jingjinji metropolitan area just east of Beijing. Here Vanke, one of the largest developers of high-end residential real estate in China, has developed the Tianjin Vanke Wonderland project, billed as the largest "Western-style" residential community in the region.
Consisting of rows of Yang Fang buildings with a few high-rise buildings dotted in between, the complex boasts well-manicured lawns, playgrounds, exercise areas and cycling paths. As such, it is a good example of modern housing projects in China that use scale, quality of life and the promise of exclusivity to attract homebuyers by the droves.
The Yang Fang phenomenon
Surrounded by two industrial parks and a higher education zone, the demographics of the residents here are relatively broad: a combination of young people who work in the vicinity, children and – as is common in China – their grandparents, who usually take over childcare responsibilities.
While current residency rates are now at roughly 80 percent, the whole project has been sold out. The final group of around 1,700 residents are expected to move in in October 2018, bringing the compound to full capacity.
Vanke has chosen KONE as its national strategic partner for elevator installation and maintenance, and Tianjin Vanke Wonderland residents rely on a total of 227 KONE MonoSpace® elevators across the vast compound to get to their homes safely and efficiently.
The large number of elevators is explained by the size of the community. Most of the buildings house, on average, two families per floor and individual buildings are generally served by a single elevator. It is therefore crucial that the elevators remain operational at all times as stairs are the only alternative in case of an outage.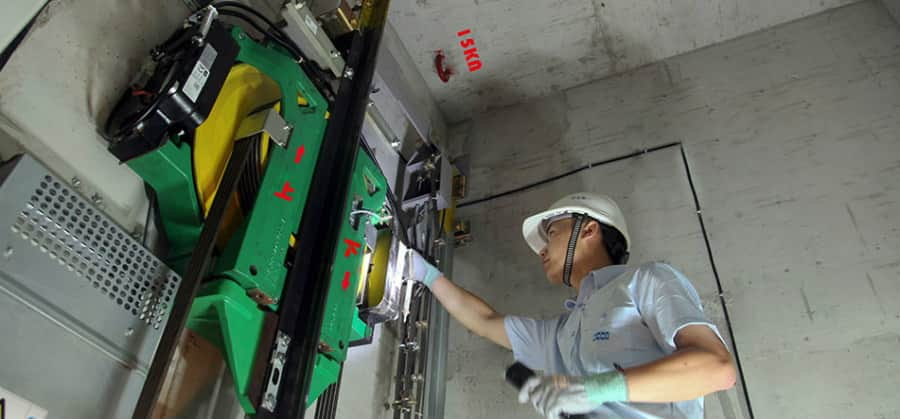 On call around the clock
This is also why Vanke has mandated that the Tianjin Vanke Wonderland project have a zero rate of elevator entrapments, with technicians expected to be on site within fifteen minutes of equipment faults occurring.
KONE's response is a team of service technicians living on site within the luxury complex. This means someone nearby is always on call, 24 hours a day, seven days a week. This also makes it easier for the service technicians to conduct routine maintenance checks and carry out repairs.
"When it's my turn to be on call in case something happens, even if I take a shower, I'll have my mobile phone with me in a waterproof case so that I can respond to emergencies quickly," says KONE technician Liu Jian.
And unexpected things do happen, even in carefully crafted new buildings and plush communities like this one.
"Most recently, we had water from the fire sprinkler system leak onto the elevators of one of the taller buildings, and we had to scramble to fix the problem," says Qiao Lijao, head of the KONE maintenance team based at the site.
While in most such cases elevators are left to dry out naturally, the on-site KONE technicians worked overtime to fix the problem as quickly as possible, using industrial-scale blow-dryers to dry out the equipment.
Going the extra mile
This is not the only occasion the commitment and service mindset of the Wonderland team have impressed Vanke and the residents of Wonderland. All agree that clear communication goes a long way to alleviating anxiety when something goes wrong.
The KONE team once monitored an elevator continuously over 24 hours to identify the source of and fix an unexpected problem reported to building management by a frustrated tenant. And while they did, they also established efficient three-way communication to let the residents and building management know they were on the case.
"In the end, the resident was satisfied with our work and retracted his complaint. We were able to impress both Vanke and the district government with how hard we were working to fix it," beams Qiao.
Quick and on-demand service like this is important, especially when you consider the tastes of Chinese homebuyers. The idea of living in gated communities with like-minded people, landscaped gardens and other amenities which promote the good life is highly sought after. With it, residents have come to expect sound facility management.
This makes the kind of exclusive service and care offered by KONE a role model for other housing projects in the region.