June 29, 2018

If you ever go skiing on Stubai Glacier in Tyrol, Austria, you're in for a treat even before you get to the slopes. The resort features the 3S Eisgratbahn, the Alps' longest and most comfortable triple-wire cable car. It also features some unique escalators installed at the stations along the side of the mountain.
"We received many offers for the project and had many meetings, because we were not just buying a product, but we were also looking for long-term support and services," says Andreas Kleinlercher, cableway director at Stubai Glacier. "With KONE we knew we were in good hands."
The long and narrow road
"The project called for four escalators: an eighteen-meter escalator at the base station, two fifteen-meter units in the middle, and one eleven-meter unit at the top," explains Florian Strele, sales representative for KONE Austria in Tyrol.
"You can imagine how big those parts are. These four escalators weigh around 37 tons, which we had to transport to the site."
This was no easy task, particularly for the middle and top stations. They were next to a protected nature reserve and the only route up was a steep, narrow road with a 30-percent incline and many curves.
"We had to transfer all items with a special four-by-four truck capable of going up there and then coming down in reverse, because there was no place to turn around!" Strele says.
Of course, in a project of this size KONE was not the only company that needed to use the tiny road. Many other contractors used it for their own tasks.
"Everything went smoothly thanks to the efficient harmony of KONE employees, our construction personnel and electricity technicians," Kleinlercher says. "Everything worked because it was planned properly. With such a big construction project it is important to plan the several executions of different parts of the project."
Built to be tough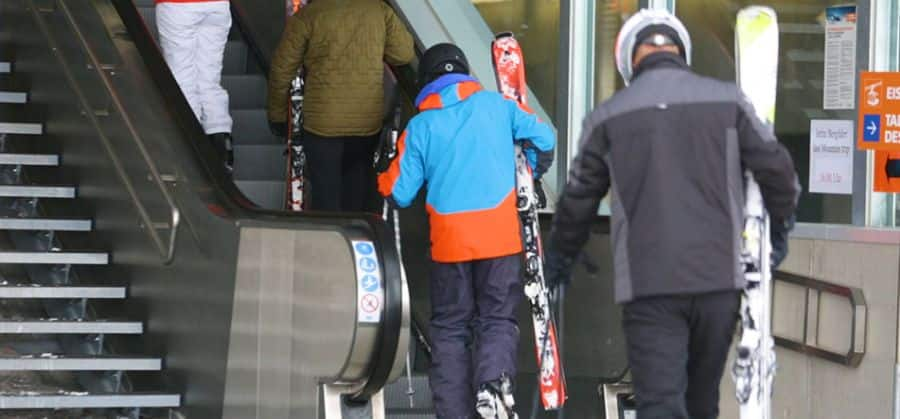 The logistics and installation were challenging enough, but there were also special requirements for the escalators.
"The escalators must be really solid and able to withstand rough use," Kleinlercher explains. "We have around one million visitors per year. Visitors bring in snow, salt and little stones, and this is not good for the escalators. We needed a good product with superb quality. The main requirement was for escalators to last a really long time, but we also needed to have good technical support."
The KONE TravelMaster™ 120 was perfect for these conditions, Strele says, but even the visitors posed particular challenges. After all, they are not like shoppers on a mall escalator.
"People are wearing ski boots and carrying their poles, skis and snowboards. It is quite difficult to move around with all that equipment," he explains.
A smooth ride
People carrying so much gear also created a safety concern. KONE wanted to make sure the ride on the escalator was smooth and that visitors were not surprised by its start or finish.
"When people step on the escalator, they go forward three steps horizontally before it starts to incline. The last three steps are also horizontal so they realize it is time to exit," Strele says. "Also, a normal stairway might have an incline of 30 to 35 degrees, but these escalators incline at only 27.3 degrees in order to keep people safer."
Kleinlercher emphasizes how important it is for skiers to be able to move comfortably around the resort so they have a great experience. To avoid bottlenecks, the escalators can even be slowed down to match the speed of the gondolas.
The system is so impressive that it is getting a lot of attention in the industry.
"I have to say, here at Stubai Glacier we have pretty good skiing," says Kleinlercher. "Many cable car colleagues from around the world are coming here to see our new system. They look up at the gondolas and they look down at the escalators at the three stations, and they see that they work so well.
"They do not believe it; they ask how it is possible to have escalators here! Many want this available for them in the future. I believe it makes people feel good and I think that is really important."