October 11, 2018
The new Tribunal de Paris is literally luminous – a truly exceptional, 160-meter high structure that holds its own in a city priding itself on visual aesthetic. A glittering, glazed glass feature on the Parisian horizon, the three, stacked layers of this unique construction bring together all the courtrooms and judicial offices that were previously scattered around the city.
Skyscrapers are rare in the historic French capital, so the very highest of technical and aesthetic standards were required to create the Tribunal de Paris. Enter Renzo Piano, whose creations include The Shard in London and the Beaubourg Centre in Paris. His design for an expansive, light-flooded, yet highly functional edifice demanded truly exceptional workmanship and a strict logistical schedule.
A building that lives many lives
"Housing courtrooms, a secure holding area for litigants, and also public access areas, meant having to bring several buildings with different purposes together into one location," explains François-Xavier Dutac, head of the works department of construction contractor Bouygues Construction.
Each section had to comply with completely different regulations, he adds. For example, the court's primary function is to deal with attorneys, judges, litigants and the general public, while technical services – like maintenance and garbage collection – are carried out discretely, along entirely different pathways.
"The challenge for KONE was to manage these flows of people in a completely secure way," explains Guillaume Fournier Favre, managing director of KONE France. His team's job was to help design and deliver the vertical transportation solutions needed in the skyscraper to ensure both security – for example, in transporting detainees – and accessibility to both the public, and to court and administrative employees.
With a complex brief that included tight construction deadlines within a dense urban environment, the full gamut of KONE equipment was utilized, explains Fournier Favre.
When every solution matters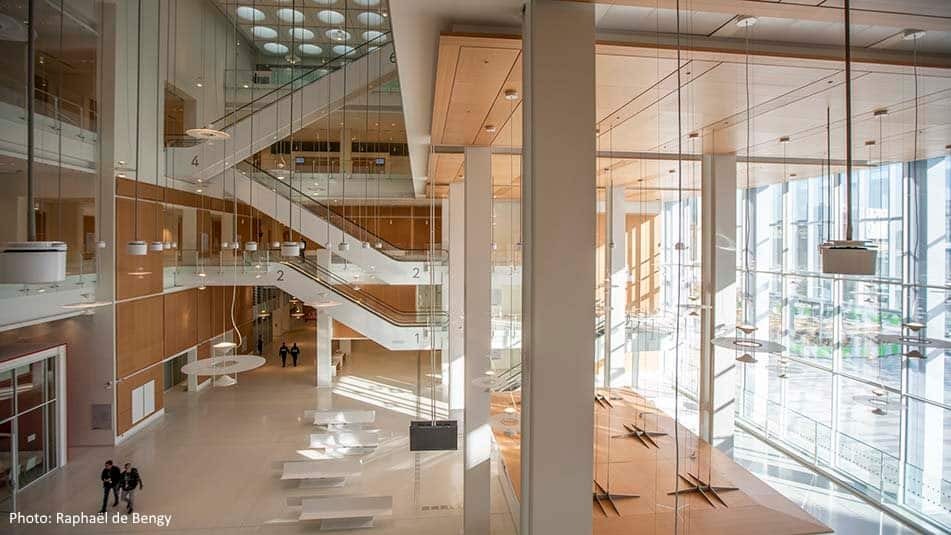 "First of all, a KONE JumpLift™ was installed and operated throughout the whole high-rise construction phase," he says. Travelling faster than exterior hoists, the KONE JumpLift is a safe, construction-time elevator that uses the same shaft as the elevators in the finished building. It cut working hours drastically and allowed for speedier installation of the building facades. These are both factors that can have a dramatic effect on deadlines for a project of this scale.
To handle the challenge of different types of people flow, an advanced KONE Destination Control System was installed to optimize traffic. Each elevator was also connected to the building's security hub through KONE's E-Link monitoring system. Since litigants would need to move through the building, the elevator cabins had to be custom made, says Guillaume Fournier Favre.
"They were made with two compartments inside, separated by bars for the litigant to enter on one side, and law enforcement officials on the other, allowing them to move vertically inside the building in a secure way," he explains.
The result is a painstakingly designed and constructed entity that utilizes 55 KONE elevators and escalators to help some 9,000 people move around the building every day. KONE's crowning solution is a one-of-a-kind, panoramic elevator that goes up 30 floors, traveling a distance of 110 meters at a speed of 2.5 meters per second. The KONE team worked closely with Renzo Piano to ensure the architect's vision was incorporated into a functional design.
"It is unique in the world and is special for having been developed in an open shaft," says Guillaume Fournier Favre. "The cabin is fully glazed with a red frame. It was manufactured in the KONE factory in Hyvinkää, Finland, and transported and installed in one piece directly into the shaft."
Waste not, want not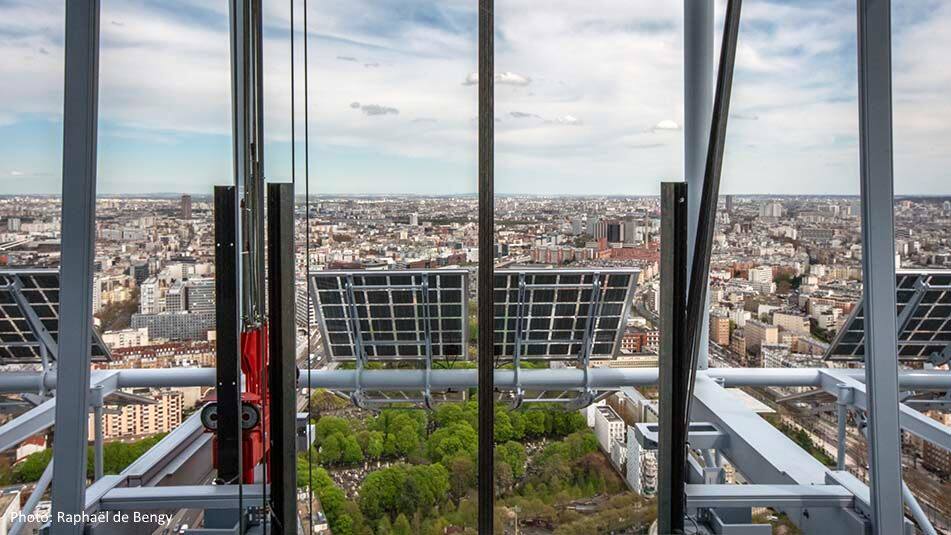 The innovative build also showcases advanced environmental features, such as solar panels, enhanced thermal insulation, rainwater collection and a natural ventilation system.
This was essential for François Xavier Dutac, who considers such solutions fundamental to the construction of any building.
"We often see over-equipped, over-connected buildings that must become more and more energy-efficient," he says.
The features above, coupled with solutions like KONE's energy-recycling regenerative drive technology, were an important part of the picture when it came to the building meeting its energy consumption targets.
The task was indeed monumental – and so is the result. The Tribunal de Paris is a true testament to form and function, standing tall amidst the Parisian skyline.
"This type of project is first of all a human adventure," says Guillaume Fournier Favre. "Some say that we only have one project like this in our lives."