November 29, 2019
Imagine you are on your way home after a rough day at work. Maybe it's cold and dark when you get to your apartment building. But when you step into the elevator, you are greeted by a warm glow and your favorite mood music.
"This is what people expect," explains Timo Tiainen, director for concepts and design at KONE. "In our research, we found that people around the world are used to having powerful, highly personalized devices, and now they want their environment to respond to their needs in the same way."
This increasing desire for personalized experiences during the course of our everyday lives was a driving force in the creation of the new KONE DX – or digital experience – Class of elevators . Rapidly developing digital technologies and connectivity were the enablers: the KONE DX Class of elevators give architects, building owners and facility managers the opportunity to make their buildings more intuitive, ambient and connected for the benefit of those who live and work in them or drop by for a visit.
Welcome to the KONE app store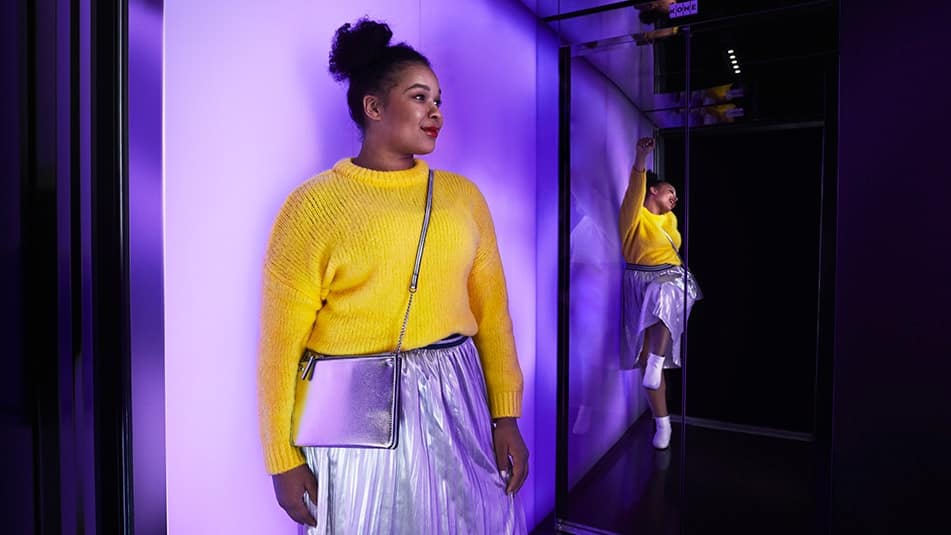 Whether it's a phone app, a car's navigation system, or a delivery drone, connected, cloud-based services and the intelligence they bring are what make the seemingly impossible possible. They make it possible for car operating systems to be upgraded from afar, and for elevators to be repaired before detected faults result in call-outs.
"The KONE DX Class is about connecting more than floors," says Teppo Voutilainen, head of KONE's volume elevator business. Built-in connectivity and other cutting-edge technologies make the KONE DX Class elevators an extension of the lobby; it becomes easier than ever to add and connect new services and solutions to the elevators and for the various smart solutions in a building to work seamlessly with them.
This is largely thanks to Application Programming Interfaces, or APIs. An API is a standardized way for two different digital systems to talk to each other.
"We are using APIs all the time without even realizing it," notes Voutilainen. "For example, if you plan a route on Google and check public transportation options, Google doesn't have that information, but pulls it from the transportation provider's API."
With APIs, the KONE DX Class is transforming the elevator from a steel box on the end of a rope into a digital platform that becomes an integral and integrated part of a smart building. It opens up a range of options for adding digital services to the elevator ride: KONE's own, pre-installed applications, those installed elsewhere in the building, and those brought in by external third parties. These can all be combined to create not just a unique elevator experience, but a seamless and tailored experience of the entire building.
This might mean anything from service robots riding elevators independently, to applications assisting visitors with disabilities to navigate the building smoothly and safely.
Think of it like the KONE app store – the possibilities are unlimited!
Appealing to the senses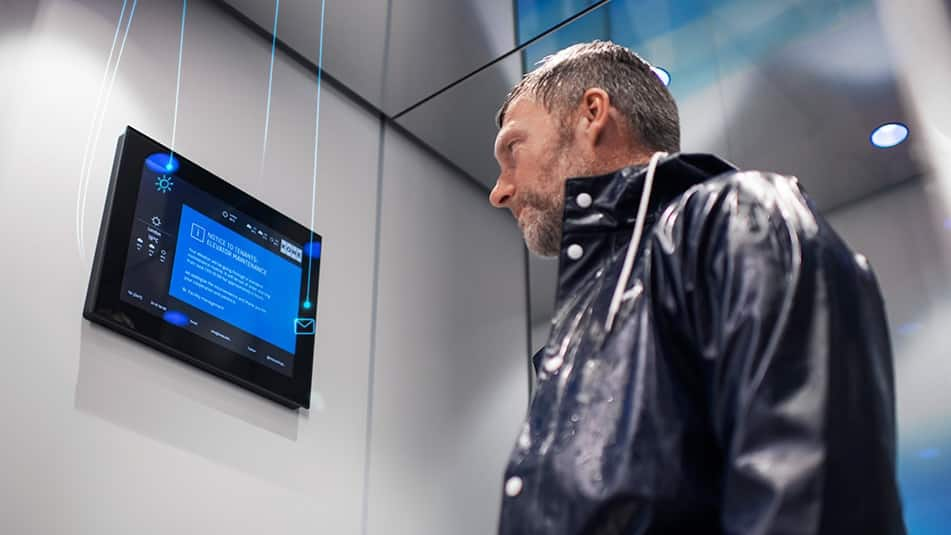 The use of digital technologies opens the door to creating multisensory experiences that go far beyond physical materials. By using the latest lighting technology, sound, and visual media on screens, and combining these with the movement of the elevator, it is possible to create very powerful experiences.
"The degree of control and flexibility available for KONE DX Class elevators changes everything," says Tiainen. "The user experience is a truly multisensory experience."
The impact of these new possibilities reaches beyond the individual elevator ride and can serve to define a building's identity and even impact business. Adaptive lighting could, for example, be trained to help office workers stay engaged through the day. Integrated infotainment and sound systems could be changed on the fly to encourage shopping mall visitors to visit new tenants or take advantage of last-minute deals. And music could be used to create the desired mood.
With a powerful collection of new digital elevator planning tools and services, customers can make the best choices for their buildings already in the design phase. A virtual reality application, for example, enables you to step in for a 360-degree view of cabin designs.
Designed to adapt to future needs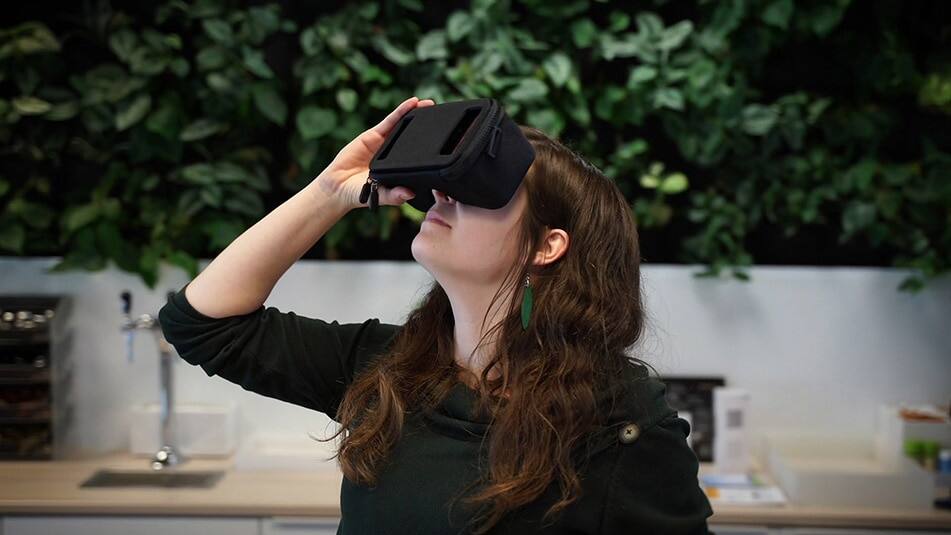 The opportunities brought by digitalization are exciting. And looking to the future, there are unlimited possibilities to explore with all the applications that are still beyond our imagination.
Elevators installed today will be in operation for the next 25 years. At that point, many of the components are due for modernization.
In that same time, the people who use the building and the purpose of the building itself may have changed several times over. This means that the requirements will also have changed – also, when it comes to the elevators. The built-in connectivity and digital features of the KONE DX Class elevators make them easy to adapt to a whole range of future needs as they can be updated with new services as these become available.
Connecting with nature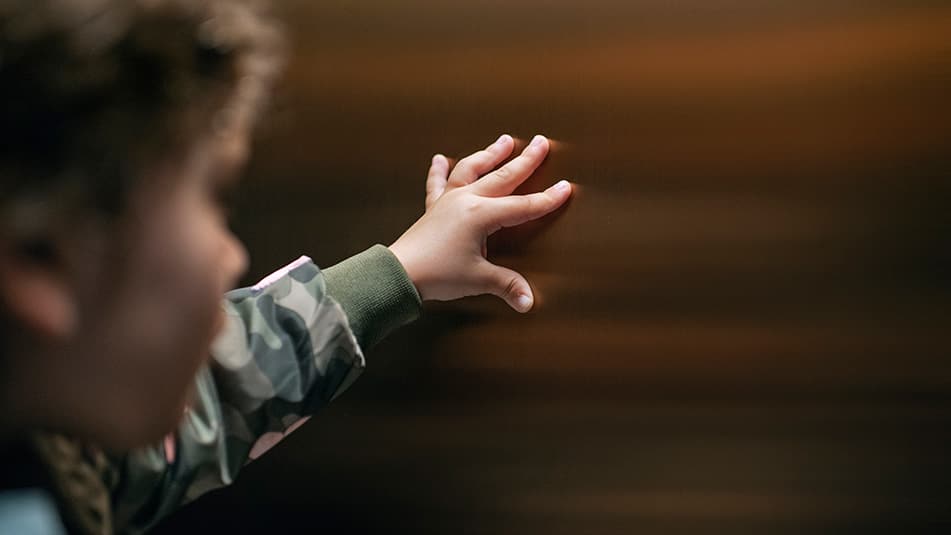 Every aspect of the KONE DX Class elevators, from connectivity to materials to sustainability, has been carefully considered, with the future needs of customers up-front and center.
"All our design choices are based on working with customers and end users, testing and iterating as we gain deeper understanding about what they value," explains Tiainen.
A clear finding from the hundreds of co-creation sessions KONE has conducted with customers around the globe has been that in our increasingly urban world, the ability to connect with nature has become paramount. People want to find ways to bring elements from the natural world into built environments, and the KONE DX Class furnishings include laminates that mimic wood, leather or stone. The color palate includes both soft and calming tones as well as bright ones to inspire and engage.
Respect for nature is also taken into account below the surface, and KONE's R&D has done a lot of heavy lifting when it comes to environmental friendliness. The KONE DX Class elevators provide A-class energy efficiency, the best there is. Materials are sustainable, long-lasting, easy to clean, durable, and even contribute to healthy indoor air quality.
"We experience our lives using each of our senses, sometimes even our sixth sense, and that's how the merger of physical and digital needs to be," says Tiainen. "New technology allows us to interact with and learn from the world around us. It allows us to move from designing static spaces to designing for all the senses, to create enriching experiences in everyday spaces."
(Following the publication of this article, Timo Tiainen has taken on a new position as head of KONE WORX, a team of global innovators working on solutions to improve the flow of urban life sustainably.)

READ MORE
KONE DX Class elevators: connecting more than floors
KONE DX Class elevators take the industry into a new era – the world's first elevator series with built-in digital connectivity as standard
Connectivity explained