Beijing Daxing International Airport, China 
Viewed from the air, the first thing that anyone notices about the Beijing Daxing airport is its unique appearance. Designed to look like a mythical phoenix bird in flight, the building was inspired by traditional Chinese architecture and blends classical and modern elements. Being Beijing's second-largest airport, it is capable of accommodating 45 million passengers by 2021 and 100 million with planned expansions. The efficient radial structure aims to allow passengers to reach the flight gates from entering the building in 30 minutes maximum, and from the building's central core in 8 minutes.
BUILDING FACTS
Location: Daxing district, Beijing, China
Building opened: 2019
Size: 700,000 square meters
Building type: Transport hub
Annual visitors: 45 million by 2021
Architects: Zaha Hadid Architects, ADP Ingeniérie, Lead8
Contractor: Beijing Urban Construction Group Co. Ltd 
Management: Capital Airport Management Co. Ltd
CHALLENGES
Provide reliable smooth people flow for millions of passengers
Keep to a tight building schedule
Take into account the location of the airport in an active seismic zone
Provide quick troubleshooting and maintenance
SOLUTIONS
Work alongside customer right from the start of the project
Enable real-time monitoring of equipment usage and performance, locally and remotely
Tailor-made seismic support design for the escalators
KONE Solutions
174 KONE™ TravelMaster escalators
KONE E-Link™ monitoring system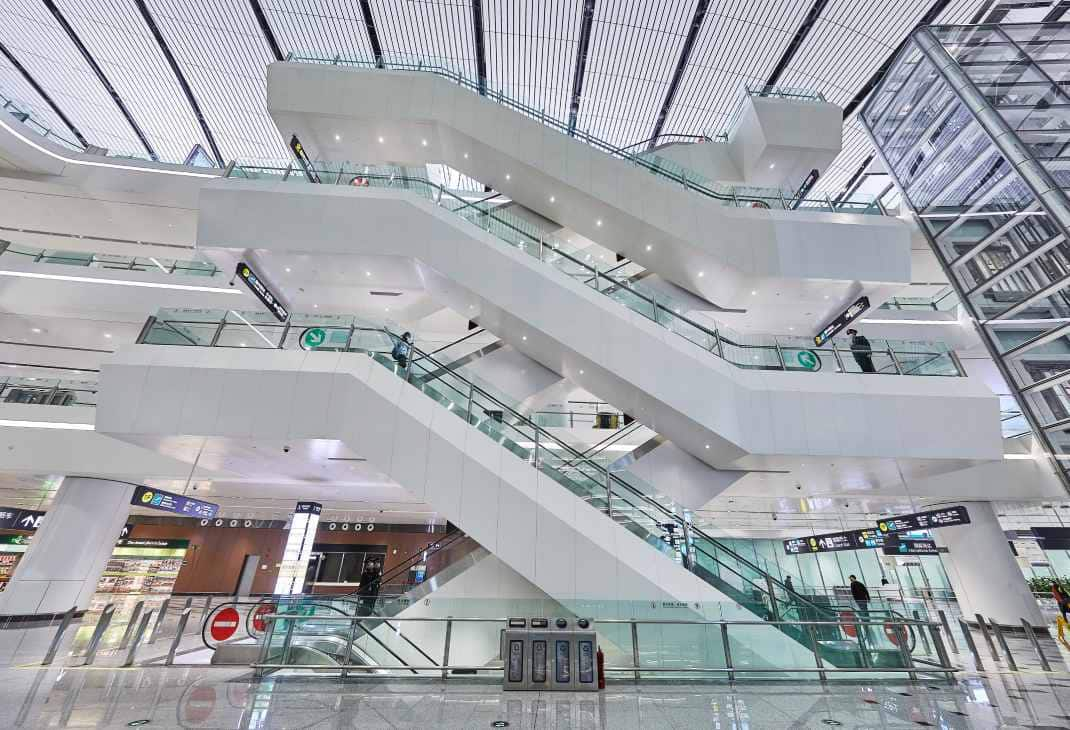 Explore other landmark projects
These featured projects enrich the urban fabric of their city, and we're proud to have played our part.